On 14 acres only six blocks from the U.S. Capitol, the project's potential is vast and could accommodate a global headquarters, major cultural institution, or a multi-building campus. Residents, workers, and visitors will enjoy a multitude of neighborhood amenities within easy walking distance, a variety of parks and plazas, and unparalleled connectivity to the city, region, and beyond.
Early projections for the project suggest:
1.5 million square feet of office space
More than 1,300 residential units
More than 500 hotel rooms
100,000 square feet of retail
Burnham Place Site Plan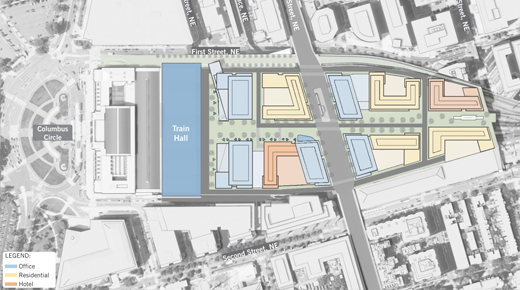 A revitalized Union Station and the Burnham Place air-rights will together demonstrate the vision and ability of the nation's capital to execute on a technically and economically ambitious project vision, matched by few other cities around the world. The project offers a host of features including:
Visual transformation of an existing rail yard and overpass into a thriving commercial neighborhood.
Grand plazas and parks, new station entrances accessible from H Street, and an elevated public way for walking, running, and biking.
Views and connections to the U.S. Capitol and the NoMa and Near Northeast neighborhoods from station and air-rights public spaces and buildings.
Multiple new pedestrian connections to the station, Metrorail, intercity bus, and shopping and open space amenities.
Design with great sensitivity to enhancing historic resources and assets.