Burnham Place will create a vibrant and dynamic new neighborhood of shops, residences, offices, and public spaces in the heart of Washington, DC. At the gateway of new rail and multimodal transit services, the approximately three-million square-foot air-rights project will be built above Union Station's rail yard, providing direct access into a newly expanded and improved station facility.
Plans for Burnham Place represent one of the most significant projects for the National Capital Region in a generation, and will be an economic catalyst for decades to come. A new commercial center atop an expanded multimodal station of monumental architecture, Burnham Place will be in an ideal location at the convergence of the city's Central Business District, Capitol Hill, NoMa, and near Northeast neighborhoods, with unparalleled accessibility.
The development will feature a mix of first-class office, residential, retail, and hotel space, as well as parks and plazas. The combined station expansion (described below) and air-rights vision will match the quality of the original, historic Union Station and McMillan Commission urban plan, designed by architect Daniel Burnham, ensuring that Union Station continues to be a worthy gateway to the nation's capital.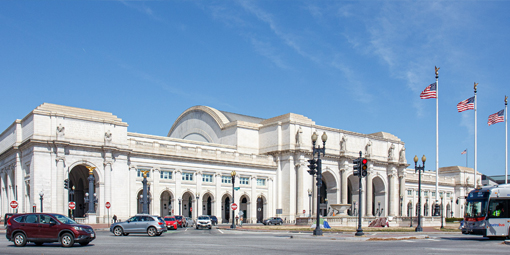 Union Station Expansion
The Federal Railroad Administration (FRA), the Union Station Redevelopment Corporation (USRC) and Amtrak are proposing to expand and modernize Washington Union Station to support current and future growth in rail service and operational needs. The project's goals provide for tripling the existing peak passenger capacity of the station, facilitating safe and efficient travel, and providing a world-class visitor experience. The FRA is currently finalizing an Environmental Impact Statement (EIS) for the station project. Please see
WUSStationexpansion.com
for more information.